Corserva offers managed IT services in Connecticut to local small and medium businesses.
For most companies, maintaining diverse skill sets and 24x7 coverage for IT systems is not affordable. Instead, to keep the business operating profitably and focusing on business growth, companies use a managed service provider (MSP) for day-to-day technology needs.
Corserva's managed IT services include:
24x7x365 remote monitoring and management of IT assets
Patching and updating of hardware, operating systems, and software
Immediate alerting of potential issues
24x7x365 end-user help desk services for employees
Anti-virus and anti-malware
Firewall management
Managed security of mobile devices
Vendor management of phone service providers, ISPs, and line of business software applications
Disaster recovery and business continuity
Corserva Managed IT Services Plans
Corserva offers three packages of managed IT services: Proactive Essentials, Proactive Advanced, and Proactive Elite.
The Advantages of Managed IT Services Versus Break Fix
For as long as there's been technology in the workplace, there has been a need to support that technology. As certain as death and taxes, things will eventually break.
In the early days of business technology, IT service providers emerged as a solution to solve the problem of what you do when something stops working. Businesses could call their IT firm for network support or to fix whatever was broken and pay them for their services. This traditional break/fix model was a reactive type of service. You called them when you needed work done, and they charged a one-time fee.
Later, managed services and managed service providers (MSP) came about as technology became more complex and integrated into every aspect of a company's processes. Today, it is difficult to imagine performing most job duties without access to email, internet, and other systems.
Technologies such as cloud services, Big Data, and IoT have provided great opportunities for companies to innovate but have also exposed new risks to a company's IT infrastructure.
Managed IT services offer a high-quality, proactive approach to technology support versus a reactive approach.
Your company's technology is taken care of for a fixed monthly cost, and your employees can focus on growing the business.
Quarterly Business Reviews (QBR)
When you become a Corserva client, we hold quarterly meetings with you to facilitate long-term technology planning.
Outside of day-to-day issues, this gives us a chance to strategize with you on future technology changes that will need to be made to support your company goals. Quarterly Business Reviews (QBR) enable you to plan, prioritize, and budget for future IT needs.
Your QBR includes quantifiable data demonstrating exactly what you are getting from your investment in IT. During the QBR, we identify any exposures and risks you have and offer options for dealing with them.
Our QBR process will demonstrate to you the increase in uptime we deliver and how we have enabled you to avoid cyber security breaches in on-prem and cloud environments.
Best Practices in Managed IT Services
ITIL (Information Technology Infrastructure Library)
Corserva's service delivery model is built on ITIL best practices to align IT services with the needs of the business.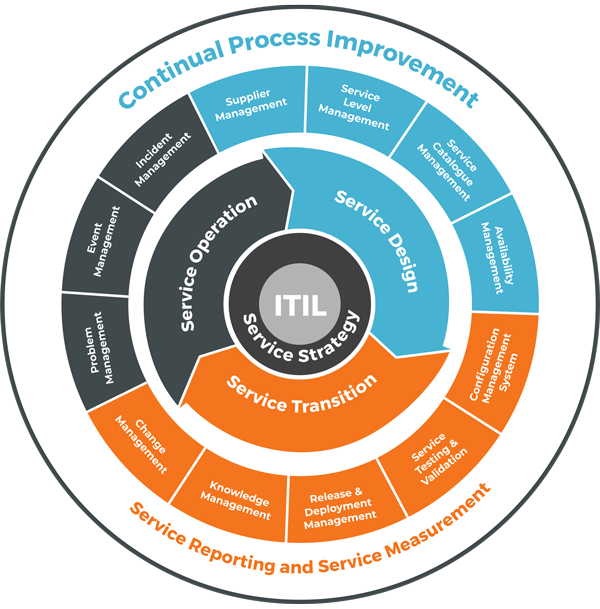 By using ITIL-based processes, Corserva enables you to maximize the value you get from your investment in technology.
ITSM (Information Technology Service Management)
Once you become a Corserva managed services client, we focus on advancing your IT Service Management Maturity level.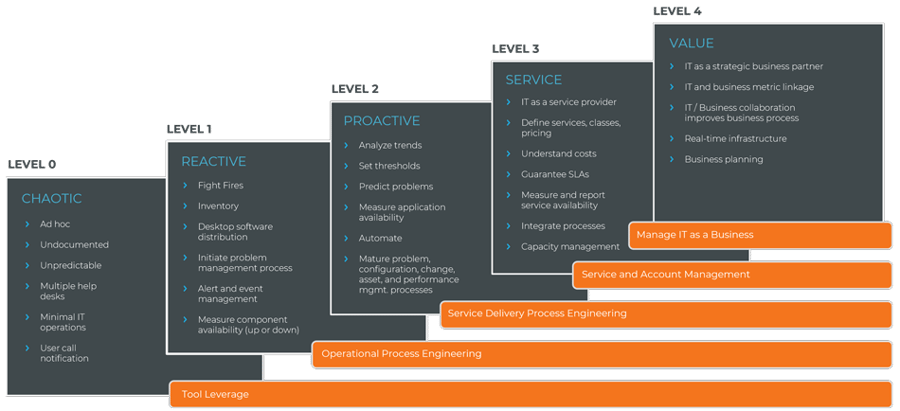 Service Level Agreements (SLA)
A managed services service level agreement (SLA) is a comprehensive document that clearly defines the responsibilities of the MSP, metrics as to what constitutes meeting the SLA standards, and what penalties are in place if the MSP misses a provision of the SLA.
An SLA for managed services is the guarantee you have from the MSP, clearly describing the obligations of the MSP.
At Corserva, we measure our success in precise terms, including SLAs for each service.
Benefits of Corserva's Managed IT Services
Accelerate the achievement of business goals
Gain a competitive advantage
Increase productivity and efficiency
Guard against business risk
Facilitate planning, budgeting, and ROI forecasting
Why Choose Corserva as Your MSP
30+ year history providing technology services and IT consulting to the Fortune 1000 and SMB markets
US-based NOC/SOCs with Level 1, 2, and 3 technicians supporting clients 24x7x365
Clear contractual commitments with no ambiguity
97%+ SLA achievement
Complete documentation of your network
Managing thousands of IT assets
98% client satisfaction
Detailed billing
Client-facing portal for real-time status
Geographically dispersed SSAE 18 SOC 2 Type II data centers, HIPAA and PCI compliant
Technology experts on staff with key security certifications including CISSP, GSEC, CEH, and CompTIA Security+ as well as vendor certifications from industry leaders such as Cisco, Fortinet, Hewlett Packard Enterprise, Microsoft, VMware, Veeam, and AT&T Cybersecurity
Corserva services clients throughout Connecticut from our Trumbull, Connecticut location, including Bridgeport, Danbury, Fairfield, Westport, Shelton, Norwalk, Stratford, and all of Fairfield county.
Our Orlando, Florida data center serves as a backup to our Trumbull, CT data center to ensure that our clients remain up and running in the event of a disaster.
In addition to managed IT support, Corserva provides IT consulting services, IT contract staffing, and professional services for technology projects.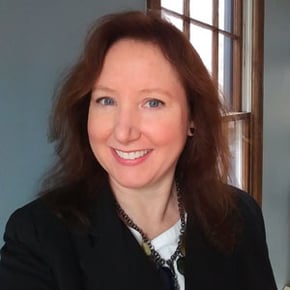 Lisa DeVoto
Lisa has 25+ years of experience working for technology companies in B2B marketing and technical communications. She is driven to help people solve problems through educational content. Lisa has an MBA from University of Connecticut and a BS in Computer Science from Rensselaer Polytechnic Institute.