The prevalence of mobile devices in the workplace for personal and company use has changed how we work. Future-facing companies need to be able to offer a choice of devices to employees without limitations or technical constraints.
Supporting both Windows devices and Apple devices within the same IT infrastructure can be challenging for Windows-centric organizations or for those where IT expertise slants heavily towards Windows operating systems.
Enterprise MDM
Corserva provides mobile device management (MDM) services for companies looking to support all types of mobile devices within the enterprise environment.
Leveraging industry-leading tools, including Microsoft Intune and Jamf Pro, Corserva offers enterprise-class MDM solutions to support end-user smartphones, tablets, and laptops in the corporate environment for both Windows and Apple devices.
Creating a Secure Environment
Any device that connects to the internet represents a new potential security risk.
Corserva limits security risks by creating mobile use policies and ensuring each device has the appropriate MDM security software to match your company's specific needs.
Customized MDM Programs
When implementing a mobile device management (MDM) program, Corserva begins by evaluating your MDM readiness. We assess your existing mobile capabilities and usage patterns, as well as the current performance of your infrastructure.
From there, we develop a comprehensive mobility solution to:
Manage the organization's mobile devices
Enable a Zero Trust security framework for authentication, authorization, and continuous validation
Configure deployment and maintenance of your mobile device fleet securely
Deploy and manage allowable apps, including line of business apps
Improve the cybersecurity risk posture of mobile devices
Encrypt data to protect sensitive information
Deploy and manage digital certificate deployments
Enable mobile device threat protection from the latest malware and viruses
Simplify mobile and remote workforce data and application access
Create a mobile-friendly environment that balances the needs of the business with a productive user experience
Microsoft Intune
Corserva uses Microsoft Intune to manage Windows devices in your environment. By properly configuring Intune, we ensure that your organization's devices are used securely.
You can have full control over the equipment for organization-owned devices, including settings, features, and security. We configure policies in Intune to ensure devices stay in compliance.
For Bring Your Own Device (BYOD) programs, we enable your employees to use their personal devices at work without compromising corporate security.
In addition to Active Directory (AD), we configure Intune so that the company's data is protected and isolated from personal data.
Jamf
As the leading Apple device management platform, Jamf offers the most granular control over Apple devices in the enterprise.
In combination with Apple Business Manager, Corserva configures the Jamf Pro platform to create a zero-touch deployment method to provision Apple devices.
Leveraging Jamf Connect, we can establish a secure connection to a directory service such as Active Directory (AD) from any Apple device. This provides single sign-on for your Apple users without the need to bind the Apple device to AD.
We create any custom scripts that are needed and can provide training to your staff. You can rely on Corserva to support Apple devices in Windows-centric and hybrid Mac/PC environments.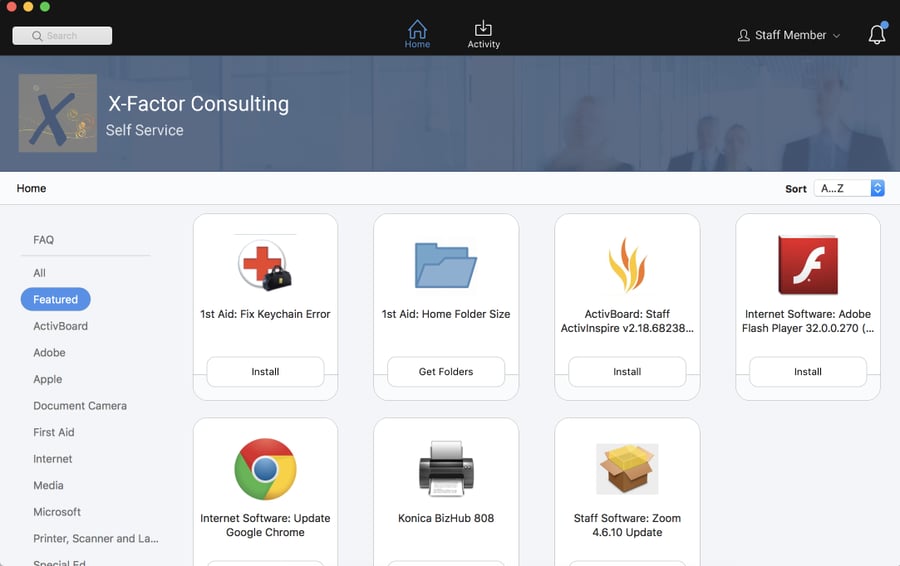 Advantages of a Single Solution for Mobile Device Management
You can rely on Corserva to provide a customized MDM solution for your business that covers Windows and Apple devices.
A single solution for the management of both Windows devices and Apple devices in the same IT infrastructure
Standardized configurations for fast and easy provisioning
Security features such as password enforcement, find me, remote wipe, and work/personal application segregation
Apple Authorized Service Provider
Jamf Authorized Reseller and Managed Service Provider
Microsoft Silver Partner and Cloud Solution Provider
Expert Intune configurations by a certified Cloud Solution Provider in the Microsoft Partner Network
24x7x365 end-user support is available to you via phone, email, and web portal
All mobile assets tracked with an accurate inventory
Shorter Jamf implementations
Apple devices are managed through Jamf Pro, the gold standard for Apple mobile device management
Maximized productivity for Apple users with optimal configurations created by Jamf 400 certified experts
Maintenance of a stable connection to synchronize Macs in a Windows-centric environment
Services performed by Apple experts with certifications in Apple ACSP, ACMT, ACit, and the full range of Jamf certifications from Technician to Expert
Technology experts on staff with key security certifications, including CISSP, GSEC, CEH, and CompTIA Security+
Corserva Managed IT Services
Corserva offers a variety of managed IT service plans to fit your budget, which includes enterprise-class mobile device management (MDM). Contact us today to get a quote.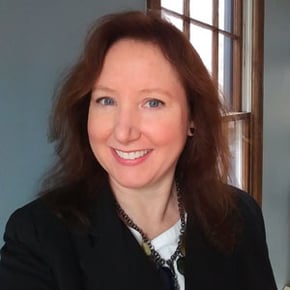 Lisa DeVoto
Lisa has 25+ years of experience working for technology companies in B2B marketing and technical communications. She is driven to help people solve problems through educational content. Lisa has an MBA from University of Connecticut and a BS in Computer Science from Rensselaer Polytechnic Institute.