Effective April 21, 2020, Microsoft has renamed some of the Office 365 subscription plans for small and medium businesses.
There are no price, feature, or business model changes to commercial subscriptions. The changes are in name only.
Office 365 Plans to Change
Microsoft is changing the name of SMB plans. The names of the enterprise plans are not changing. Microsoft 365 and Office 365 name changes are as follows:
| | |
| --- | --- |
| Old Name | New Name as of April 21, 2020 |
| Office 365 Business Essentials | Microsoft 365 Business Basic |
| Office 365 Business Premium | Microsoft 365 Business Standard |
| Microsoft 365 Business | Microsoft 365 Business Premium |
| Office 365 Business | Microsoft 365 Apps (for business) |
| Office ProPlus | Microsoft 365 Apps (for enterprise) |

If you are already using an Office 365 subscription, it will automatically be renamed on April 21. You will see the name of your subscription updated to the new name across your Admin Portal. There is no action you need to take due to the name change.
Comparison of Microsoft 365 Plans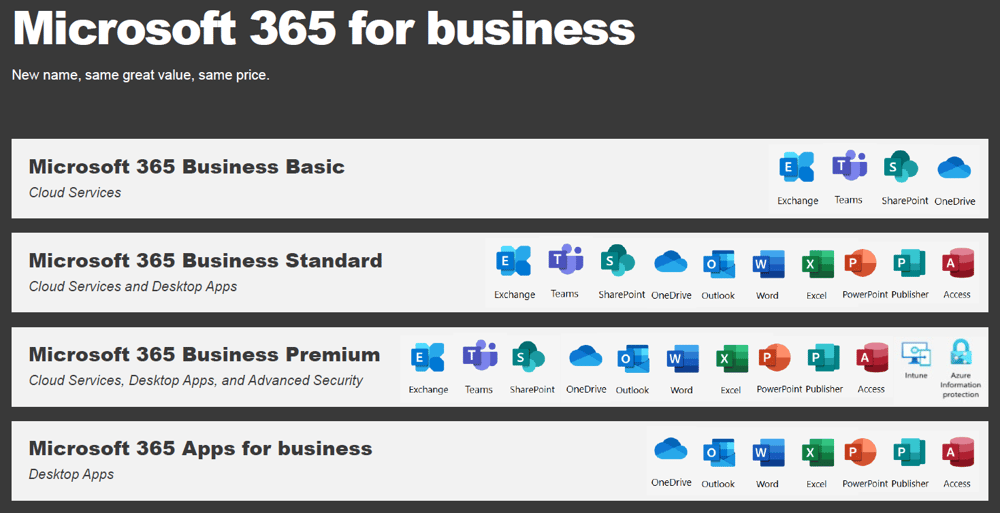 Office 365 Plans That Will Not Change
The Office 365 plans for enterprise are not changing and remain as follows:
Office 365 E1
Office 365 E3
Office 365 E5
Migrate to Microsoft 365
Outsourcing the migration of office productivity plans to Corserva will save you time and money in the long run. Our services are backed by technical support for your users, 24x7x365 from our US-based help desks.
"We wanted to reduce our costs for email services and gain new capabilities by migrating to Microsoft Office 365. There is a ton of information, as well as misinformation, out there about migrating to Office 365. Corserva laid out a clear plan to accomplish our goals, providing all the technical resources we needed throughout the process.
Since the migration, we've reduced our email related costs to 25% of what we were paying before, added new features and alleviated some internal support issues. The team at Corserva was super accessible and responsive to our needs throughout the project."
Robert Alderton, IT Director, Kripalu Center
Moving forward, we can also manage Microsoft 365 or Office 365 for you with our Microsoft 365 managed services. This way, we can take care of new user additions, upgrades, deletions, and account administration.
Get a quote now for our migration services.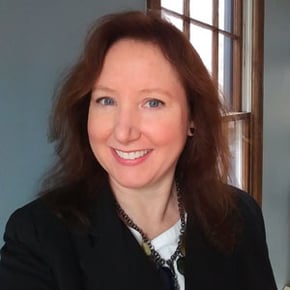 Lisa DeVoto
Lisa has 25+ years of experience working for technology companies in B2B marketing and technical communications. She is driven to help people solve problems through educational content. Lisa has an MBA from University of Connecticut and a BS in Computer Science from Rensselaer Polytechnic Institute.