As more of your business applications move to the cloud, the cyberattack surface increases exponentially. IoT, cloud, mobile, and DevOps all contribute to the challenges in protecting the business. What you need is visibility into every vulnerability.
Cyber Risk is Business Risk
Many IT professionals tell us their greatest challenge is simply seeing all the assets in their environment. Legacy network security tools and approaches have not kept up with new technologies.
The problem is adversaries can see everything and will attack you wherever they find a weak link.
You need complete and continuous visibility of your modern attack surface that includes traditional IT infrastructure, as well as cloud, operational technology (OT), and container environments.
| | |
| --- | --- |
| | |
| | |
| | |
| Operational Technology (OT) | |
If you haven't already migrated to the cloud, chances are good your future plans include cloud migration. Whether public or private, the security of your cloud applications must be audited just like you do with other devices, such as firewall vulnerability assessments for firewalls.
IT assets that are unknown (to you) and unmanaged will lead to corporate risk.
In the report "Managing & Measuring Cyber Risks to Business Operations," the Ponemon Institute found that only 29% of organizations reported having sufficient visibility into the organization's attack surface.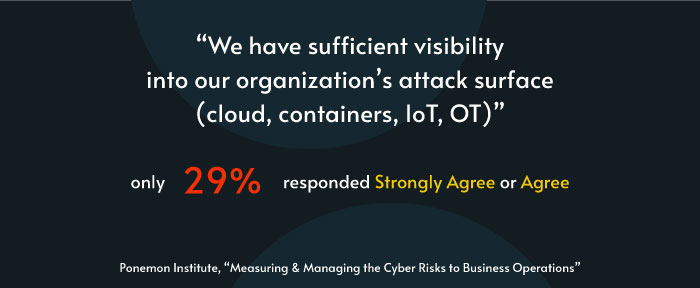 Although traditional vulnerability management solutions are effective for protecting your IT network – workstations, servers, network devices – you need more than that.
3 Steps to Vulnerability Management
Because the number of diverse assets across your IT environment is always changing, it can be difficult to assess risk to your business accurately.
The vulnerability management process requires you to be able to do three things:
See every asset across your attack surface.
Remediate the vulnerabilities that pose the greatest risk.
Measure your cyber exposure and drive ongoing improvements.
The Failure of CVSS
The Common Vulnerability Scoring System (CVSS) can be helpful in prioritizing remediation. But there are some weaknesses with a CVSS score:
Too large a percentage of all vulnerabilities are rated high or critical
Many of the vulnerabilities listed are unlikely candidates to be exploited
CVSS doesn't include robust analysis of the business impact of vulnerabilities
All assets are treated the same regardless of their importance to the business
Address the Biggest Vulnerabilities First
Comprehensive cyber exposure builds on vulnerability management but extends it to cover the breadth of the attack surface, including traditional IT, cloud, IoT, and OT. Cyber exposure provides insight into data so you can address the most important issues first — your biggest vulnerabilities.
Measuring cyber risk is as critical to the business's success as measuring other types of risks, such as financial, supply chain, and regulatory risks.
Once risks have been identified, you need to be able to focus on the most important ones first — the ones most likely to cause a problem. Tenable estimates that only 3% of vulnerabilities are highly likely to be used in an attack.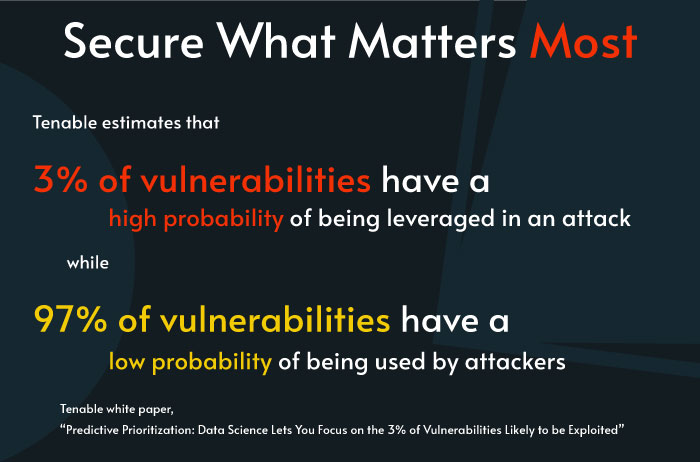 Having the understanding to know which vulnerabilities are the most critical to your corporate risk is as important as being able to see all the vulnerabilities in your environment.
Measuring Cyber Risk to Meet Compliance
You may have compliance needs that require you to audit your public cloud deployments, such as AWS and Azure. You must protect everything from the cloud to all endpoints, whether your cloud infrastructure is private, public, or hybrid.
Corserva's Managed Vulnerability Scanning Service scans your public cloud deployments for vulnerabilities, malware, and compliance issues, plus audits the infrastructure for adherence to CIS controls and other best practices.
With any compliance mandate, getting an initial idea of where you currently stand can be helpful before implementing any new security measures.
For example, one of the requirements of Cybersecurity Maturity Model Certification (CMMC) is to perform vulnerability scanning and management. An initial vulnerability assessment should be one of the first steps on the path to CMMC compliance.
See Every Asset and Secure What Matters Most
With Corserva's Managed Vulnerability Scanning Service, you can:
Implement the same security measures at remote locations as you have at office locations
Protect your cloud applications
Maintain a constantly updated inventory of assets
Generate a paper trail for auditors to prove compliance
Comply with NIST, NERC-CIP, and other regulations
Track configuration changes in the IT environment
Corserva's risk-based vulnerability management uses machine learning analytics to correlate vulnerability severity, threat actor activity, and asset criticality to identify and manage issues posing the greatest risk.
Scanning Frequency
A good tool set is only a starting point for a robust vulnerability management program. Vulnerability management requires best practices, well-defined processes, and metric-driven service level agreements.
Likewise, the more frequently you can run scans to discover and assess critical assets, the better off you will be. Outdated data will hinder your vulnerability management program.
Reduce Cyber Risk and Improve Your Security Posture
With Corserva's Managed Vulnerability Scanning Service, we can identify vulnerabilities posing the greatest risk to your IT environment and perform the proper remediation.
Corserva's Managed Vulnerability Scanning Service includes:
Vulnerability metrics showing criticality, ease of exploit, and attack vectors
Threat intelligence to understand which vulnerabilities are being exploited
Container security
Web app scanning
Enhanced safety and reliability of OT environments
Professionally managed by Corserva's cybersecurity experts with certifications that include CISSP, GSEC, CEH, and CompTIA Security+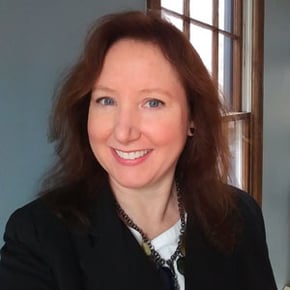 Lisa DeVoto
Lisa has 25+ years of experience working for technology companies in B2B marketing and technical communications. She is driven to help people solve problems through educational content. Lisa has an MBA from University of Connecticut and a BS in Computer Science from Rensselaer Polytechnic Institute.