IT executives at growing organizations frequently find that as the business prospers, their IT staff has less time to support critical business initiatives. When the number of end users increases, the IT team becomes stretched to the limit. By outsourcing your end user help desk, your IT staff can more readily concentrate on revenue-supporting activities.
US Based 24x7 Help Desk Support
The technology needs at each company can vary substantially, but one service in particular that I've seen bring great benefit to our clients is that for US based 24x7 help desk support.
Why?
When a company outsources their end users' issues to a managed services provider (MSP), that company's internal IT staff can focus on the strategy and planning of future IT needs at the business. The day-to-day operational minutiae is seamlessly managed by the MSP's network operations center (NOC) as an extension of internal IT staff.
There are several advantages to this type of engagement.
1. Greater Efficiency
When your internal IT staff can focus on the business initiatives that drive increased revenue instead of end user issues, your organization becomes more efficient.
2. Happier IT Staff
Dealing with minor end user issues all day can be frustrating for your internal IT staff. By outsourcing end user support to Corserva, your IT staff can work on the more rewarding technical projects. Learn more in "Why use an MSP if I already have internal IT staff?"
3. More Satisfied End Users
When your end users can get support for technical issues 24x7x365, regardless of how busy your internal IT staff may be, a common source of frustration is eliminated, and your employees can be more effective.
Benefits of Outsourcing Help Desk Services
The best part? By outsourcing your level 1 support to a US based 24x7 help desk service provider, everything gets faster and better.
Faster Resolution
Today's complex technology environments make it difficult for IT teams to support every type of end user issue, especially if it's one they haven't come across before. A reliable provider of managed help desk services can more quickly solve user issues than internal IT staffs because of the wide range of experience they have serving multiple customers, as well as their depth of expertise in a specific technology, such as cybersecurity.
Better Efficiency
The right managed help desk service provider will support your end users 24x7 to solve their issues. Users will have faster, more comprehensive support, all delivered at a lower cost than you could provide with in-house staff. You will better control your security risk across the network, including risks inherent in BYOD, by leveraging your access to security experts at your MSP. End users will experience better performance from systems that will increase efficiency across the organization.
Why Choose Corserva's Help Desk Services
At Corserva, we understand how critical the efficient use of your IT systems is to your day-to-day operations. (Learn more in "10 Questions to Ask Before Selecting an MSP.")
We pride ourselves on providing clients with always available, best-in-class IT support services, nationwide. Our goal is to make sure your critical IT systems and applications are always up and running and that any problems are resolved quickly and accurately by helpful, knowledgeable technicians. Corserva uses ITIL based, industry best practices to enable your end users to work efficiently and effectively.
When you choose Corserva to provide help desk services, your end users are supported by our highly trained NOC personnel. Frequently, our staff resolves many issues before your end users are even aware there was a problem. During client onboarding, Corserva installs a secure software agent on each device that will continuously monitor the device, including uptime, performance, and updates. From our two NOCs located in Trumbull, Connecticut and Orlando, Florida, we proactively resolve end users' issues to reduce the potential impact on your business.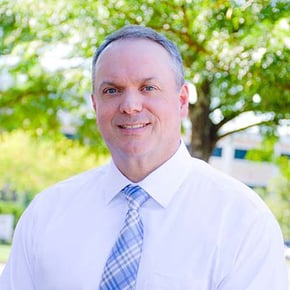 Sean McCloat, CISSP
Sean is responsible for Corserva's network and security operations centers, field services, sales engineering, data center operations, and professional services. He has an intense focus on delivering exceptional customer service across a wide array of client engagements. With 25+ years of national and global experience in the IT industry, Sean has real world experience at the corporate and enterprise levels of healthcare, advertising, and logistics organizations. In addition to his CISSP certification, Sean is a CMMC-AB Registered Practitioner (RP). He leads Corserva's assessment and compliance team, guiding companies in meeting business objectives with NIST 800-171 and CMMC.