Today's business environment requires collaboration. Your employees need to be able to share files within the organization as well as with clients and partners. But only if it's done securely.
Comply with CMMC, NIST, GDPR, HIPAA, and FINRA
If your business needs to comply with one or more government mandates, you need a file-sharing platform that tightly controls information sharing.
Do you worry about using consumer-grade file-sharing products in your business?
Do you need to meet mandates that dictate how access to information is controlled?
Do you face technical constraints when collaborating with outside partners?
Do you need file sharing and collaboration tools for WFH employees?
Are you concerned that employees mix corporate and personal data on their devices?
File Sharing that Meets Compliance
When you need more than consumer solutions such as Dropbox, OneDrive, and GoogleDrive, FileCloud is the answer for NIST-compliant file sharing.
Thousands of organizations rely on FileCloud for their file sharing and collaboration needs. FileCloud provides end-to-end data protection with multiple levels of security at each layer. With FileCloud, corporate data is well protected.
You gain complete control, total security, branding, powerful administrator tools, and data ownership with FileCloud.
Secure Remote Access
Always have secure remote access to your files. FileCloud offers many ways to securely access your organization's files: web access, sync, virtual drive, mobile apps, WebDAV, and browser add-ons. It protects your files and makes them available across all your devices.
The Best Return on Your Investment
FileCloud includes features and customization that competitors typically charge extra. You get more for a quarter of the price of other products. To further reduce costs, FileCloud gives you an unlimited number of free accounts for your clients and partners. They will have web-only access to the files you choose to share.
Share Securely
Create public, private, or password-protected links. Securely receive files and set up group spaces for team file sharing. You can mark your files view only, restrict the number of downloads, and make them available for a limited time. FileCloud lets you share how you want.
Full Backup and Data Loss Prevention
Know your files will be safe in the event of an accident or disaster. FileCloud offers full secure endpoint server backup and self-service restoration. Recover files from the recycle bin or revert to a previous state with unlimited file versioning.
Ransomware Protection
Cybercriminals try to exploit your trust and find vulnerabilities in your network. FileCloud comes with an industry-first heuristic engine to detect ransomware early. Exposure to malicious attacks is limited. Customization features protect against malware, email spoofing, and other threats.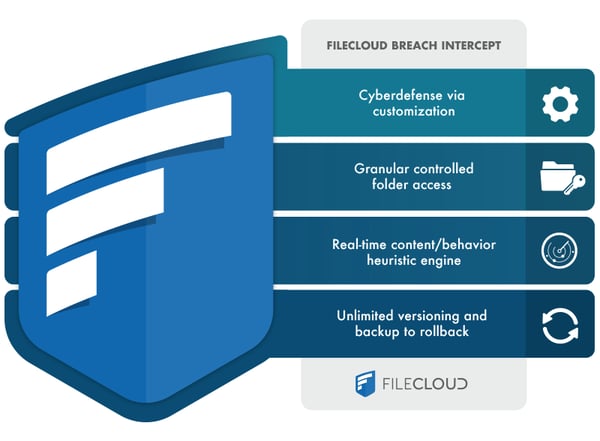 App and Client Management
Monitor your modern BYOD workforce in real-time. Your administrators can selectively remove or block data access to suspicious devices. In the case of a lost or stolen mobile phone, admins can protect confidential files by remotely wiping FileCloud data from that device.
Infrastructure of Choice
FileCloud is truly infrastructure agnostic. You can run it on any infrastructure in the region of your choice: US, EU, APAC, and SE Asia to meet strict data residency requirements.
Site Sandbox
FileCloud uses unique site sandbox architecture to provide maximum security. Dedicated instances will isolate your site to eliminate the risks associated with other SaaS cloud services.
Branch Office Synchronization
With ServerLink technology, each office can run a separate FileCloud instance that synchronizes data with other branches and your headquarters. This provides high performance, maximized uptime, and links organizations worldwide.
Smart Drive
The FileCloud Drive app mounts your cloud space as a local disk. It provides access to terabytes of files without consuming local storage. The virtual drive helps limit offline copies of files and comply with regulations.
Integrate with Microsoft Office and Microsoft Outlook
Store your Microsoft Office files in FileCloud, and you can open, edit, and save right from the app or using a browser. Automatically upload email attachments and share secure links with the FileCloud Outlook add-on.
Scalable
With high availability, automated server backup, and rollback features, FileCloud can be scaled to large deployments.
Cloud Enable Your File Server
When your file server is the central location for all of your data, accessing remote enterprise files through FTP and a VPN is cumbersome. FileCloud brings more efficiency to your file server, making it easier to access, share, and track your data from anywhere.
Total Security
FileCloud uses modern state of industry encryption and secure transfer protocols to keep your files safe. Configure your security policies easily for many levels of protection, including multi-factor authentication, SAML Single Sign On, customer help encryption keys, virus scanning, ransomware detection, and mobile device monitoring.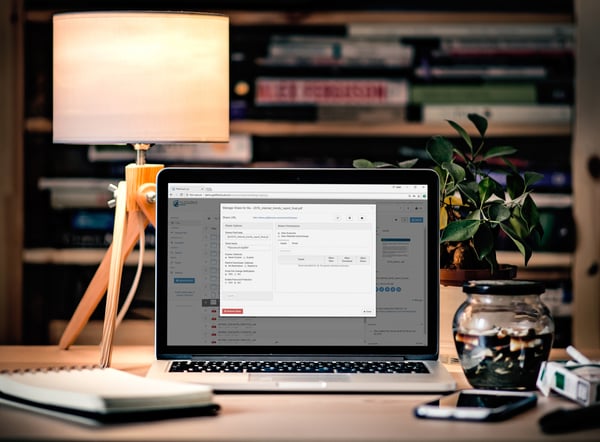 Encryption In-Transit and At Rest
FileCloud protects the confidentiality and integrity of your files in transit and at rest.
AES 256-bit encryption to store files at rest
SSL/TLS secure tunnel for file transmission
Site-specific, customer-managed encryption keys in a multi-tenant setup
Powerful Administrator Tools
FileCloud helps you deploy and manage thousands of users and millions of files. Your administrator dashboard gives you powerful tools to track your files, including usage trends, geographical data, and other key analytics. Apply global policies, customize the user experience, automate document workflows, view reports, and perform granular auditing, all with FileCloud.
Anti-Virus Scanning
FileCloud supports the scanning of uploaded files using ClamAV (an open-source antivirus software). Uploaded files are scanned automatically, and any malicious files are removed.

Benefits
Access enterprise files from anywhere using any device without a VPN
Seamlessly access remote cloud storage as if it were a local drive
Protect your data with two-factor authentication and ransomware protection
Leverage granular sharing options to limit the number of downloads and set an expiration date
Synchronize files effortlessly across devices on Windows, Mac, or Linux
Prevent data leaks using remote wipe and block
Recover from data loss using backup and versioning
Retain control and ownership of your data
Manage users and gain complete control over file sharing

Gain Secure Enterprise File Sharing
You can rely on Corserva to install and configure FileCloud for your organization. We are experts in cybersecurity and compliance, and our staff holds certifications in CISSP, GSEC, CEH, and CompTIA Security+.
Corserva is a CMMC-AB Registered Provider Organization™ (RPO), listed in the CMMC-AB Marketplace, and we can prepare your organization for an assessment in the Cybersecurity Maturity Model Certification (CMMC).
Contact Corserva to get a quote for FileCloud's secure enterprise file sharing and collaboration.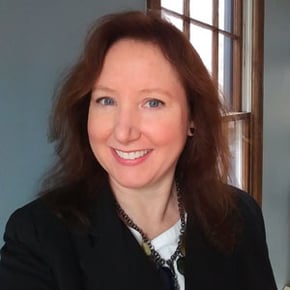 Lisa DeVoto
Lisa has 25+ years of experience working for technology companies in B2B marketing and technical communications. She is driven to help people solve problems through educational content. Lisa has an MBA from University of Connecticut and a BS in Computer Science from Rensselaer Polytechnic Institute.