The smallest organizations may start out managing the company's information technology functions internally, But as a company grows, IT related tasks can become burdensome for staff to handle "on the side." Similarly, as the technology needs of a company become more advanced and specific, business owners may decide to outsource these services.
There are steps you can take to realize the biggest advantages when outsourcing IT functions at your company.
What is IT outsourcing?
Companies can hire IT firms to fulfill some or all of the required technology related services needed by the company. This can include end user help desk support, monitoring of servers and workstations, as well as one-time project work. Services may be billed at fixed monthly costs or project-based.
Using a Managed Service Provider (MSP)
For many companies, IT outsourcing is a cost-effective way to support the technology needs of a company.
The successful management of your IT infrastructure requires highly skilled technical staff monitoring your systems 24x7x365 using the latest remote infrastructure monitoring technology. You need experts in servers, virtualization, storage, networking, desktops, cybersecurity, disaster recovery, and other business technologies. A company will use managed IT services provided by a managed service provider (MSP) to supplement or outsource the daily operation of their IT infrastructure.
There are multiple benefits to be gained by choosing to outsource one or more IT functions to an MSP.
Why Outsource Your IT
If you are currently managing IT tasks internally within your company, you may be considering whether or not the time is right to outsource some or all of your IT functions.
Reasons to consider outsourcing IT support include:
Cost Savings — Hiring and maintaining the diverse skill sets needed to support the technology needs at your company may cost more than leveraging the services of an MSP.
24x7x365 Coverage — If you are a nationwide or global company, it may be difficult for internal IT staff to support the needs of remote staff around the clock.
More Efficient Use of Internal IT Staff — Let's face it, it can be tedious for your own IT staff to deal with repetitive end user issues all day. Outsourcing IT help desk support is an extremely cost effective method of enabling your own staff to focus on the larger company initiatives.
By working with an MSP, you can customize a package of services to best suit your business. You pay only for the services you need, when you need them. For example, you might consider outsourcing the more repetitive end user help desk work that would otherwise monopolize your internal IT resources, while leaving the more advanced issues to your in-house staff. Or you might have a temporary need for additional IT staff that can be fulfilled with short-term outsourcing contracts.
A critical task that an MSP can perform is IT asset management. As part of onboarding, the MSP will do a technical assessment of your entire network that will identify all devices. Then, the MSP can continue to manage your inventory of IT assets. This is critical to maintaining a secure IT environment as this activity will frequently uncover devices that were connected to your network of which you were not aware.
When to Outsource IT Services
With a managed services contract, businesses can rely on their MSP to provide services that will prevent problems from occurring, as well as to solve issues when something happens such as a hardware failure or security breach. Many companies will consider outsourcing their IT needs to an MSP when the company reaches a certain level of growth. Outsourcing a company's technology needs to an MSP enables company staff to focus on business strategy, instead of IT tactics.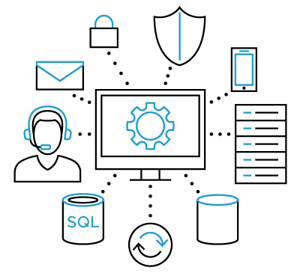 Your need for IT support may be unique based on your specific business and your in-house IT capabilities. In a managed services contract, typical systems within a company's network that will be supported are:
laptops
desktops
mobile devices
wireless devices
network devices
storage
servers
IT network support services provided by an MSP typically include:
#1 Managing the IT Network Infrastructure — Your IT network infrastructure includes your servers and your workstations (endpoint devices such as PCs and printers), as well as the network connecting everything (both wired and wireless).
#2 Making Sure Backups are Running Properly — It's important to remember the reason for running backups in the first place: you want to protect your business so that in the event of a disaster, you can recover your lost data and restore your systems. It's not enough to simply run backups. To ensure disaster recovery capability, you must be able to actually recover from your backups. #3 Protecting Your Network — Keeping your network secure generally means two things: 1) that endpoint devices (such as PCs and servers) have anti-virus and anti-malware software installed, which prevents intruders from entering your network and harming your systems, 2) that the network is protected with the latest firewall and SIEM systems so that in the unlikely event the network is infiltrated, the harm will be minimized.
What IT Services Can Be Outsourced
Types of IT functions to outsource include:
End User Help Desk
This is by far one of the most successful methods of outsourcing IT. Your end users get professional tech support 24x7x365, and any internal IT staff can focus on big projects.
Monitoring & Patching
An MSP can monitor your IT infrastructure from a network operations center (NOC) using centralized, reportable processes. Software patching can be done remotely and automatically.
Cybersecurity
You can maintain a secure infrastructure using cybersecurity services from external service providers such as managed firewall and managed SIEM.
Migration Projects
Some projects can be better managed by an outside party who has already done this work for hundreds of clients. A great example is migrating to Microsoft Office 365.
Compliance Projects
Many companies have compliance requirements for mandates such as NIST, HIPAA, PCI, etc. An MSP with experience in these areas can meet your need for assessments.
Tests
Periodic tests such as external network penetration testing are best handled by an outside firm, as a way of keeping the fox out of the hen house.
Many of these services require 24-hour support or special skills, which make them ideal candidates to outsource to an outside technology provider.

A NOC is an MSP's hardened facility that is used to monitor performance and security events of client networks 24x7x365.
The facility should have redundancy for all major systems including electricity, HVAC, and internet, in addition to computing systems.
NOC personnel may have different capabilities (Level 1, 2, and 3 technicians), and the NOC should be staffed 24x7x365 with coverage for the various disciplines. To expedite on-site resolution, NOC teams should have real-time connectivity with field resources.
One of the best ways a company can leverage the services of an MSP for maximum benefit to the business is by outsourcing help desk services.
This makes perfect sense when you think about the most common issues that end users have, which cause them to reach out to your internal IT staff: trouble logging in, password changes, and new employee onboarding. An MSP will follow consistent, repeatable processes for handling these types of issues in a timely manner that best serves the end user. And because your IT staff is freed up from this type of more tedious work, it boosts employee morale.
How to Outsource IT
You can reduce costs when you outsource some or all IT needs instead of continuing to hire internal staff as the technology requirements of the business grow.
When deciding which IT services to outsource and which to keep in-house, ask yourself these questions:
Which tasks can be handled more efficiently by an outside party who is doing this same work day in and day out?
Certain tasks can be handled more efficiently in-house versus outside, and vice versa. For example, it may make sense to outsource device monitoring and software patch updates to free up internal IT staff for more critical business functions.
Are there certain projects that would be best handled in-house that are part of the core capabilities of the company?
Planning the initiatives that will be best contribute to the goals of the organization as part of its core competencies may be better suited for internal IT staff, although an outside party can provide IT consulting services towards this effort with project-based outsourcing work.
Are there compliance mandates critical to the business that are best left to experts in this field?
Depending on your industry, there may be regulatory compliance laws or federal mandates to which your company must comply, and may require outside expertise, such as those for HIPAA, PCI DSS, and NIST.
Are there certain skills or certifications needed for the work?
Leveraging the services of an MSP gives you access to a wider range of technical skills than you would otherwise have with internal staff. Cybersecurity is a good example. Securing the company's data and systems may require skills and experience beyond the scope of internal staff.
How Much Does It Cost to Outsource IT?
IT service plans can be as unique as your business.
Monthly recurring managed IT services are often priced per device. For example, Corserva's Proactive Monitoring Service includes help desk support 24x7x365 and is available at a flat monthly fee starting at $20 per desktop, $125 per server, and $30 per network device (such as firewall, switch, or router).
Other services may be charged per user or for a fixed fee.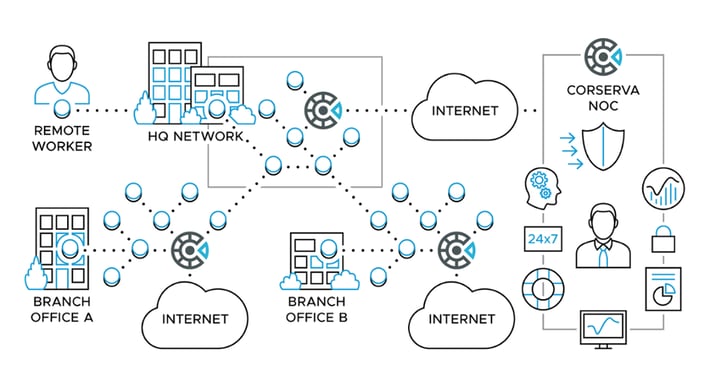 How Much Does It Cost to Outsource Your Help Desk?
Your costs for help desk services will be based on the number of users supported and the number of devices, which can include laptops, desktops, mobile devices, servers, and more.
Your plan may be priced to include a certain level of support calls, such as during normal working business hours where you only pay for support calls made outside of those hours.
Your plan may include thresholds for number of hours spent resolving issues and if you exceed those thresholds, your costs could be higher.
The method of issue reporting between your company and the MSP can also impact costs; for example, if you designate a single point of contact at your company or if all employees contact the MSP directly to report issues.
Follow These Guidelines for Success
By following these guidelines, you can make sure you get the biggest bang for your buck and choose the right technology provider for your business.
#1) Insist on Service Level Agreements
Service Level Agreements, or SLAs, are the formal, written agreements that describe the obligations of the MSP. There should be one for each type of service you are using such as IT monitoring, disaster recovery, and managed hosting.
The SLA is a comprehensive agreement that should clearly define the responsibilities of the MSP, metrics as to what constitutes meeting the SLA standards, and what penalties are in place if the MSP misses a provision of the SLA. As part of the SLA, the MSP should have a monitoring system in place that tracks any outages down to the minute, and be able to report this information to you.
#2) Visit the facility
It's important that you visit the providers you're considering. What does the data center look like? Is it a secure, hardened facility, or just a server closet? Does the company have more than one data center for redundancy purposes?
What does the NOC look like? Is it fully staffed with engineers answering client calls and emails? Or is it a couple of people sitting in cubicles, working on other stuff in between client calls?

Any facility that monitors the performance and security events of client networks should have built-in redundancy for all major systems including electricity, HVAC, and internet, in addition to computing systems. An on-site review of the provider will give you a sense of the level of professionalism you can expect once you become a client.
Even if your MSP is not providing colocation services or managed hosting services to you, there are huge benefits to selecting an MSP that owns its own data centers. When an MSP owns and maintains its own data centers, the MSP is not relying on a separate vendor to provide data center services. This can make resolution of issues seamless for the MSP's clients if a disruption occurs as there are not multiple vendors involved between the MSP and the data center provider.
As a client, you are dealing directly with the MSP to resolve all issues. And if that MSP has multiple data centers configured to provide redundancy, even better — now there is redundancy built into the systems supporting the service the MSP is supplying to clients.
#3) Determine how end user support is delivered
In addition to end user help desk staff working out of a secure NOC, dig deep into how support is delivered. The MSP should be able to report back to you on a monthly or quarterly basis as to the number and types of issues the MSP is addressing for you. This includes metrics such as average time to resolution and how issues are escalated to higher level engineers when necessary.
Even if your physical business is only open from 9 to 5, you should expect 24x7x365 support available to you to address problems that occur outside of the normal business day.
End user support should be delivered from the MSP's own NOC, staffed with technicians and engineers prepared to address your end users' problems. Your employees should have multiple methods to report problems, such as phone, email, and online. There should be strict procedures for escalation of issues, and NOC staff should follow through with end users to the successful resolution of all issues.
Minimize Your Risks
By following these guidelines when outsourcing IT, you will maximize the benefits of outsourced IT while minimizing your risks.
About Corserva
Corserva offers a complete menu of IT managed services to help you run your business efficiently and profitably. Our services are supported from our own US based technical service centers, housing our own network operations centers and data centers, and we provide 24x7x365 support. We offer a variety of IT support package rates and we can customize a package for you.
Request a quote today.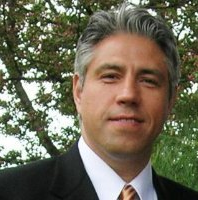 Len Tudisco
Len has extensive experience helping SMB to enterprise companies leverage technology to drive innovation and business performance. He has over 30 years of IT experience across a wide range of industries and business disciplines, with roles in software engineering, IT management, outsourcing, consulting, project management, and business development.