As of December 31, 2017, companies that provide parts and services for suppliers serving federal and local governments must comply with the NIST 800-171 mandate (or CMMC, depending on the contract).
NIST SP 800-171
The National Institute of Standards and Technology (NIST) develops and issues standards, guidelines, and other publications to assist in managing cost-effective programs to protect the information and information systems of federal agencies.
NIST Special Publication 800-171 covers the protection of "Controlled Unclassified Information" (CUI), defined as information created by the government or an entity on behalf of the government that is unclassified but needs safeguarding. This publication was originally created in June 2015, and Revision 1 was made final in December 2016.
NIST Special Publication 800-171 Revision 2, Protecting Controlled Unclassified Information (CUI) in Nonfederal Systems and Organizations, was approved as final in February 2020.
Minor Changes in NIST SP 800-171 Revision 2
Revision 2 includes only minor editorial changes. There are no changes to the basic and derived security control requirements.

NIST SP 800-171 Revision 2 — Abstract
"The protection of Controlled Unclassified Information (CUI) resident in nonfederal systems and organizations is of paramount importance to federal agencies and can directly impact the ability of the federal government to successfully conduct its essential missions and functions. This publication provides agencies with recommended security requirements for protecting the confidentiality of CUI when the information is resident in nonfederal systems and organizations; when the nonfederal organization is not collecting or maintaining information on behalf of a federal agency or using or operating a system on behalf of an agency; and where there are no specific safeguarding requirements for protecting the confidentiality of CUI prescribed by the authorizing law, regulation, or governmentwide policy for the CUI category listed in the CUI Registry. The requirements apply to all components of nonfederal systems and organizations that process, store, and/or transmit CUI, or that provide protection for such components. This security requirements are intended for use by federal agencies in contractual vehicles or other agreements established between those agencies and nonfederal organizations."
Cybersecurity Maturity Model Certification
In 2019, the Department of Defense announced the creation of the Cybersecurity Maturity Model Certification (CMMC). Version 1.0 was published on January 30, 2020. Depending on the contract, companies in the federal supply chain must comply with NIST 800-171 or CMMC. There are many similarities in CMMC compared to NIST 800-171, and the goal remains the same: to protect information within government supply chains.
What Has Changed — Self-Attestation
The biggest difference between complying with NIST 800-171 and CMMC is self-attestation. The CMMC level to which you need to comply determines whether or not you self-certify to CMMC compliance.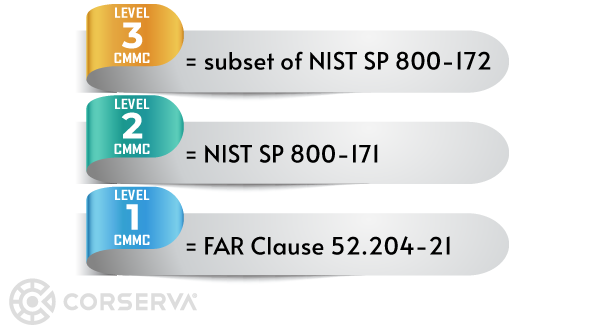 Although the method for providing evidence of compliance has changed with CMMC, any work you have done on supporting documents, such as a System Security Plan (SSP) and Plan of Action with Milestones (POA&M), has not been in vain. These documents will still be useful to you on the road to compliance.

How to Meet Compliance Objectives
With a security assessment from Corserva, you can meet your compliance objectives for NIST 800-171. If you have questions about CMMC, contact Corserva, we can help.
Corserva is a CMMC-AB Registered Provider Organization™ (RPO), and we are listed on the CMMC-AB Marketplace. Corserva provides CMMC consulting services for OSCs.
Corserva offers an easy process for compliance with NIST and CMMC. Stop putting your DoD contracts at risk. Request a quote today.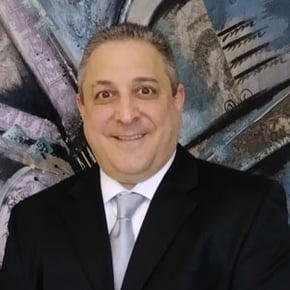 Steve Mascia
Having spent his career in technical sales, Steve has an extensive technology background delivering information technology and integrated solutions in various environments including corporate buildings, campuses, and data centers. His experience spans IT managed services, professional services, cloud services, hybrid networks, cybersecurity, data & VoIP systems, structured cabling systems, wireless, video, and security solutions. Steve strives to advance his clients' business success in every endeavor.