As we move into the last quarter of 2017, and especially if you have budget remaining for technology, now is a good time to evaluate your current backup and disaster recovery plans and processes. If you don't have a formal backup and disaster recovery plan, make this part of your New Year's resolutions.
Even if you do have a plan in place, now is a good time to check the following.
1) Are you consistently executing your plan?
It's not enough to have a plan in place if you are not actually executing according to the plan. Countless businesses have found themselves caught unaware when they suffered a data breach or equipment failure and were dismayed to find the backups they had been running so consistently were useless when data recovery was attempted. It's not enough to run backups; you need to make sure you can successfully restore from those backups. Learn more in the white paper, "Backup & Recovery Challenges: Avoid Epic Failures."
2) Is your plan still optimal?
You may have designed your disaster recovery plan at a time when operations at your company were much different than they are now. It's even possible that the current disaster recovery plan in place was created by someone no longer with the company. Company goals may have changed over time. It's a good idea to annually review your current plan to see if it is still working for you or if there are deficiencies. Ask yourself, if you were starting from scratch today, is this the plan you would design to adequately protect your company from data loss? If not, now's the time to create a new plan.
3) Are you meeting defined RPO and RTO targets?
As a company, you should formally define what your organization's RTO and RPO targets are for disaster recovery planning purposes.
RTO (Recovery Time Objective) is the length of time you can operate without your primary IT systems.
RPO (Recovery Point Objective) is the term that describes how current your data will be at the time of recovery of your systems.
Although you may have set your RTO and RPO, and formally incorporated these into your organization's DR plan, it's important to also measure how well you are meeting those objectives. A recent survey from Unitrends reports that four hour recovery times are becoming the norm despite the fact that IT professionals have less time and more budgetary pressure in their jobs than ever before.
4) Are you able to back up everything you need to?
It's inevitable. Data grows. What may have been adequate backup storage for you two years ago may no longer be.
The same Unitrends report mentioned above also reported that in the last year, there has been 54% growth in the number of companies protecting more than 100 TB of data. Yet companies with much less data to protect can take advantage of enterprise class backup solutions, at SMB level prices.
5) Are you able to recover all systems and data in the event of a failure?
Your backup plan should provide both local and offsite or cloud storage. This combination ensures that most restorations can be relatively speedy. Many organizations have viable backup plans, but have not invested in, nor planned for, the systems and network infrastructure needed in order to fully recover critical systems to a satisfactory level of performance and accessibility. Without the proper infrastructure design in place for recovery purposes, whether via on premise or cloud based systems, RTO objectives cannot be achieved.
Storage is (relatively) cheap. Disasters are not.
Don't skimp on backup storage. Instead of limping along with an undersized backup appliance, consider upgrading in the near future to a more appropriately sized appliance that meets your current and (near term) future needs. You will gain productivity savings when your technical staff no longer spends unnecessary time to keep backups running successfully. Plus, you free yourself up from having to make difficult choices such as "what is the most important files/servers/etc. that I should back up with my limited storage space?"
Start Planning Now
2018 will be here before you know it.
Based on your business goals, Corserva can propose a managed backup and disaster recovery plan that will give you total data protection where all your data is backed up and, in the event of a disaster, restoration is quick and painless. We offer a variety of service plans including local on-site backup, cloud backup, and complete site recovery from the cloud, as well as automated recovery assurance testing.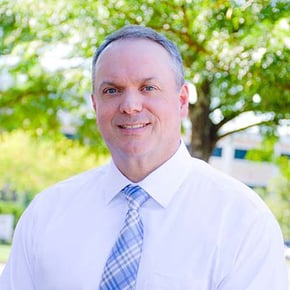 Sean McCloat, CISSP
Sean is responsible for Corserva's network and security operations centers, field services, sales engineering, data center operations, and professional services. He has an intense focus on delivering exceptional customer service across a wide array of client engagements. With 25+ years of national and global experience in the IT industry, Sean has real world experience at the corporate and enterprise levels of healthcare, advertising, and logistics organizations. In addition to his CISSP certification, Sean is a CMMC-AB Registered Practitioner (RP). He leads Corserva's assessment and compliance team, guiding companies in meeting business objectives with NIST 800-171 and CMMC.