Jamf Pro is the undisputed leader in mobile device management of Apple devices. By fully leveraging the Jamf Self-Service customization options, administrators can deliver a new level of independence to Apple users throughout the enterprise.
The value that Jamf Self Service can provide should not be overlooked. Consider the simple example of a user wanting to install software to their workstation. If the Self Service app store has been configured for typical activities, the user only needs to click a tile. There is no need to read a manual, search for the correct version of software, or seek out help from the IT staff.
Why Jamf Self-Service Customization is Important for the Enterprise
1. End User Efficiency
Most Apple users will appreciate the self-sufficiency a customized app store provides them. When users can make updates and changes to their workstations themselves, efficiency is increased across the organization.
2. No Mistakes
Foolproof processes remove uncertainty for users, which saves time. By clicking a tile to perform an action, the user never needs to worry if they are installing the correct version of software or doing the right thing — the work already done behind the scenes of Jamf Self Service prevents the user from making mistakes.
3. Avoiding Future Problems
There's nothing worse than the feeling of "oops, I shouldn't have done that." When the Jamf Self-Service portal has been customized, users can't perform activities that could potentially mess up their workstation. Any action available in Jamf Self-Service has already been vetted, giving users an added level of comfort.
4. Seeing What's Available
By customizing the Jamf Self-Service portal for the specific actions that are relevant to the company, employees can see what's available. Otherwise, there could be missed opportunities to leverage a useful utility. A company-specific app store puts everything in one place.
5. Protecting the Corporate Brand
Customizing Jamf Self-Service with the corporate logo and colors is another way to promote the company brand. For the user, it further reinforces that they are in the right place when they are installing software or making other updates to their workstation.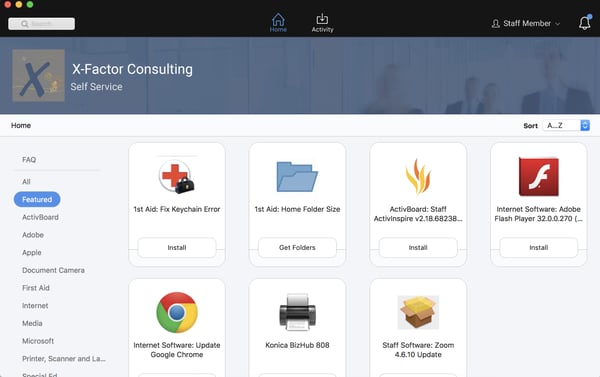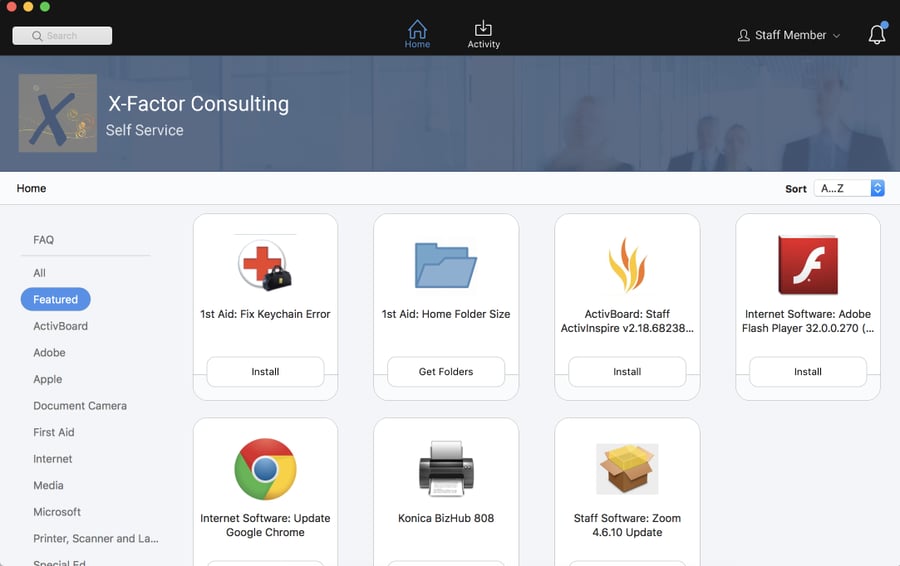 What's Available in Jamf Self Service
Once configured for the environment, Jamf Self-Service empowers employees to pick and choose the apps they want. The tiles within the app store will be customized to perform typical activities relevant to the company. Installing software, clearing cache in Safari, resetting the computer name, and clearing temporary storage are common examples of how tiles are configured to perform actions.
There are also workflow integrations that can be set up. For example, you might want to integrate Jamf Self Service with Service Now for a seamless software deployment process. When users request software through the usual means of submitting a support ticket, the software is whitelisted for the user so that once the software license is purchased, the software is available to the user in Jamf Self Service.
Customization Options in Jamf Self Service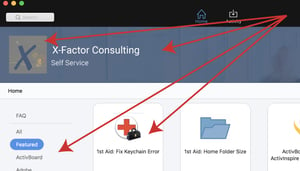 Jamf Self-Service is highly customizable and can be matched to company standards. Colors, banner images, and icons can all be hand selected to make the app store appear native to the company environment.
Administrators can select the specific tiles that are available in Jamf Self Service, as well as the name and icon of the tile. The tiles can be sorted into categories, providing users with a complete library of tools to do what they need to do.
By fully leveraging the customization options in Jamf Self Service, you can create a custom app store for the business. To deliver a modern technology experience, many steps are involved in configuring Jamf Self-Service and setting up integrations.
Leverage Jamf Professional Services to Customize Jamf Self Service
Companies that have deployed Apple devices can leverage the customization features within Jamf Self-Service to increase efficiency and enable employees to make changes to their own workstations easily and without causing problems.
Corserva provides Jamf consulting services to companies using the Jamf platform to manage devices. As part of our Jamf managed services, we can fully customize Jamf and Jamf Self-Service for your enterprise. Let our Jamf experts help you get the most out of Jamf for Apple device management.
As an Apple Authorized Reseller and Apple Authorized Service Provider, Corserva is qualified to sell and service Apple products. Our Apple experts have ACSP, ACMT, ACiT, Jamf 400certifications. Corserva's Jamf experts can guide you in exploring the full potential of the Jamf Pro enterprise platform for Apple mobile device management.
Contact us to learn more about our Jamf professional services for the Apple platform.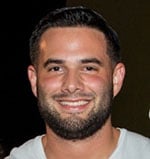 Kyle Miller, ACSP, ACMT, ACiT, Jamf Certified Expert
Kyle is an Apple Certified Professional with certifications including ACSP (Apple Certified Support Professional), ACMT (Apple Certified Macintosh Technician), ACiT (Apple Certified iOS Technician), among other Apple certs. He is part of an elite group that has attained Jamf 400 Expert status. Kyle began his career as an Apple Genius at Apple before moving into enterprise level support in the corporate landscape.