In the context of Defense in Depth, a firewall is the first step to creating a secure IT environment. A firewall is used to block traffic coming into your IT network as well as traffic going out. Within the simple security model of PROTECT - DETECT - RESPOND, a firewall protects. A firewall's primary function is to provide protection at the perimeter of your network.
It's All About the Configuration
In the course of doing business, your firewall must be configured to allow certain traffic in and out, for example, to support email and your company website. This configuration is accomplished through the creation of rules specific to your environment.

The best firewall in the world won't help you if it's not configured correctly.
Or if it was configured correctly at one time but needs to be reconfigured because your IT environment has since changed, and the firewall rules were not modified.
A managed security service provider (MSSP) manages your firewall for you, making sure the software is up to date and that the correct configuration changes are made as your network evolves.
What is a managed firewall?
A managed firewall service provides robust security protection for your network that is managed by an outside cybersecurity firm and billed at a flat monthly fee. This service provides a business with ongoing 24x7x365 real-time monitoring and protection of the IT infrastructure.
Why not manage the firewall ourselves?
When you use a managed firewall service provider, your firewall is actively managed and configured properly. A properly configured firewall can prevent attacks from occurring.
Also, with a managed firewall service, you may be getting a more feature-rich next generation firewall than you might normally set up for yourself. Typically, companies will install a firewall and configure it, then maybe never touch it again for years. Whereas with a managed firewall solution, you are more likely to have a top-of-the-line firewall solution. Plus, the firewall is being monitored 24x7x365 by your managed services provider's cybersecurity engineers.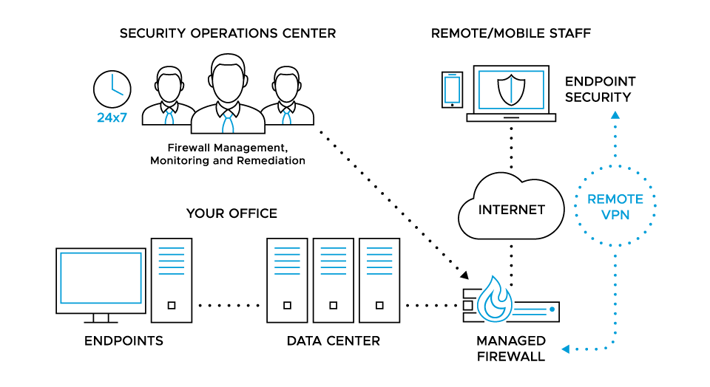 The latest firewall solutions include advanced analysis engines that analyze communication streams as they flow through the firewall. The best solutions deliver excellent perimeter security and control at throughput speeds that keep up with traffic of your network, at the edge and core.
Benefits of Managed Firewall Plans
Protection from tomorrow's threats – It's not enough for your firewall to provide protection from all known threats as of today. New threats are emerging constantly, and you need protection from zero day attacks. Corserva's managed firewall solutions are continuously updated with new threat intelligence and automated mitigations that prevent advanced attacks.
Maximum return on your investment in technology – The use of technology, even the most advanced technology, without proper implementation is a waste of your budget. Managed firewall plans enable you to derive the greatest value from your firewall.
24x7x365 remediation – With a managed firewall plan, you gain round-the-clock support to deal with any hardware issues of the firewall, plus the technical staff to perform remediation of spyware, adware, and viruses before they cause serious damage to your network.
How are managed firewall service plans priced?
Managed firewall service plans are typically offered for an all-inclusive monthly fee. An MSSP might offer a few different plans to meet the needs of different sized companies working in different industries. For example, Corserva's managed firewall plans are structured as follows.
| | | | |
| --- | --- | --- | --- |
| | Corserva Base Managed Firewall Plan | Corserva Advanced Managed Firewall Plan | Corserva Premium Managed Firewall Plan |
| Firewall device and 24x7 device support | √ | √ | √ |
| 24-hour device replacement for hardware failures | √ | √ | √ |
| Advanced performance monitoring of the firewall | √ | √ | √ |
| All firewall device updates including software and firmware | √ | √ | √ |
| Centralized backup of all device configurations | √ | √ | √ |
| All updates to device security software including signatures for anti-virus and malware | √ | √ | √ |
| Reporting and quarterly review meetings to discuss the current state of the firewall and identify any emerging issues or improvement suggestions | √ | √ | √ |
| Priority in the service queue over non-contract clients | √ | √ | √ |
| Intrusion prevention | | √ | √ |
| Web content filtering and application control | | | √ |
Features
Corserva's managed firewall plans provide:
Robust perimeter IT network security
Intrusion detection and prevention (IDS and IPS)
Advanced engines that analyze communication streams as they flow through the firewall
Firewall updates of both software and firmware
Centralized backup of firewall configurations
24x7x365 real-time monitoring and remediation of spyware, adware, and viruses
Web content filtering and application control (web application firewall)
Continuous threat intelligence updates and automated mitigations to protect against advanced attacks
Management by Corserva's security experts with certifications including CISSP, CISM, CGEIT, CRISC, CEH, and CompTIA Security+
About Corserva
In addition to managed firewall solutions, Corserva offers a variety of security services for businesses, such as managed SIEM, email security, managed security as a service, and security awareness training.
Our security expertise enables us to build secure, reliable networks for our clients. Corserva's staff have key security certifications including CISSP, CISM, CGE IT, CRISC, CEH, and CompTIA Security+. We provide 24x7x365 support for our clients from our US based security operations centers, and our services are backed by clearly defined service agreements.
Request a quote for Corserva's managed firewall service.