In assisted living and senior housing facilities, keeping residents safe is of the utmost importance. There are technology solutions available that can improve resident care, yet there are also unique constraints present in this industry.
Technology Considerations in Assisted Living
Ease of Use
Compared to targeted users in other industries, ease of use is most important for any business catering to the elderly. The most exciting new technology will be of no benefit if it is not easy to use for staff and seamless for aging residents.
WiFi Improvements
Another roadblock preventing the adoption of enhanced technologies may be a weak wireless infrastructure. Many senior housing facilities do not offer residential quality WiFi, never mind enterprise quality.
Energy Savings
A significant operating expense in assisted living is the energy costs associated with running the facility, such as those for heating, cooling, lighting, and water. What's worse is that residents may leave these systems operating, even when they are not in their living quarters — a complete waste of energy.
If you have the technology in place that can tell you when a room is occupied or not, and that technology can turn off or turn down systems left running when a room is unoccupied, you decrease costs.
Challenges in Assisted Living
Property managers of assisted living facilities face the following types of challenges:
Physical limitations of residents
Medical conditions can make it difficult for older people to use traditional keys and even keycards. Smartphones, wristbands, fobs, pendants, and other wearables can be used with electronic access control systems to make it easier for residents to traverse a facility.

High energy costs
Utility expenses can be high in any building, especially if occupants forget to turn off or turn down energy-consuming systems. You can integrate access control with other systems such as thermostats and lights to turn down systems automatically.

Safety concerns
Residents of assisted living facilities can become disoriented and may have difficulty returning to their living quarters. Staff can leverage access control solutions and location based services to ensure that residents are where they should be at all times.

Weak wireless infrastructure
New technologies may offer improved efficiencies and a reduction in operating costs. However, the existing wireless infrastructure may be incapable of supporting enhanced technologies, such as location based services. A technical assessment of the existing wireless network can uncover deficiencies for correction.
By adopting newer technologies, assisted living facilities can reduce operating costs, improve resident care, and gain a competitive advantage.
How Can Technology Improve Elder Care
Access control
Energy management
WiFi
Assist buttons and wearable devices
Point of sale systems
IoT device integration
1) Comprehensive 24x7x365 Access Control
You can improve operations, as well as safety, by upgrading to a wireless access control system. A modern access control system enables your staff to manage access throughout the property from one central location.
Individual residents can be located anywhere in your environment at any time. All access points can be managed, both external doors and gates as well as internal entry points.
When caregivers can enter residences via smartphone, and only during specific time windows, a more secure environment is created. Residents no longer leave themselves vulnerable by leaving doors open unnecessarily.
When you implement modern electronic access control solutions, you improve the security of your facility for residents and staff. Benefits of access control include:
Comprehensive 24x7x365 security
A superior experience for residents
Seamless integration capability with other systems
2) Energy Management
With IoT connected thermostats, you can reduce energy costs. The temperature in unoccupied rooms can be automatically adjusted to reduce energy consumption.
Benefits of energy management include:
Reduce energy costs 20 – 45%
Integrate energy management with other systems including electronic door locks, lights, and window coverings
Leverage detailed analytics to achieve optimal temperature setbacks
Repair and maintain HVAC equipment within apartments before residents are adversely affected
Identify and resolve issues from a central management location without entering apartments
3) Enterprise Quality Wireless Networks
Upgrading the wireless infrastructure at your facility can enable you to leverage the full benefits of next generation technologies in energy management, access control, and location based services.

When you are able to offer enterprise quality WiFi throughout your campus, your residents benefit as well as staff and visitors.
With the infrastructure in place to support video conferencing and other communication applications, you open new avenues for tech-savvy residents to stay in touch with loved ones.
Benefits of enterprise quality wireless networks built by Corserva include:
Fully secure
Scalable to grow with you
Fast deployment
Network health metrics & reporting
Ongoing monitoring of your wireless network
Customizable access policies: per user, device, or location
Branded landing pages
>> Request a quote for technology services. <<
4) Assist Buttons and Wearable Devices
You can provide residents with a physical assist button that can be worn on their person or installed in their living quarters. The resident can press the button to request non-emergency assistance, and the appropriate staff member will receive the request via text message, email, or as an assigned task within an application.
Because the assist buttons are tied to the wireless network at the facility, there are no subscription fees. Staff members immediately know who is requesting assistance and where they are located on the property.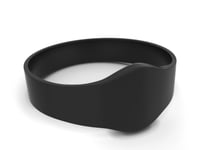 This functionality can be provided in a pendant necklace, wristband, or other wearable technology. Benefits of assist buttons and wearable devices include:
Can be integrated with a property's access control system
Provides 3 functions:

keyless entry through doors
location based tracking
emergency alerting

Waterproof (to be worn in the shower or bath)
5) Point of Sale
With point of sale systems, you can drive exceptional experiences for residents. The convenience brought by this level of service results in increased sales and more convenience for residents.
Point of sale systems include:
All-in-one solutions as well as customized packages that include stands, cash drawers, receipt printers, bar-code scanners, and payment terminals
Tablet based mobile solutions with lock down features
Modern forms of payment supported, including NFC and EMV
By integrating point of sale with the access control system within a property, residents can use smartphones and wearables to pay for services wherever they are.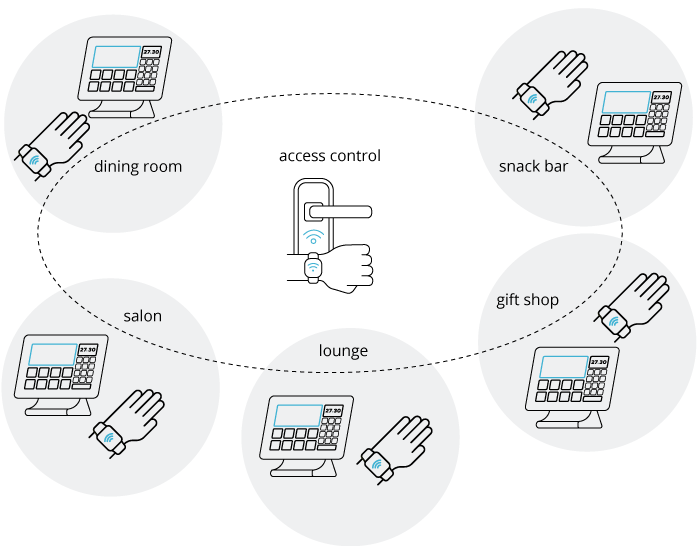 6) IoT Device Integration
The Internet of Things (IoT) offers an opportunity for assisted living facilities to enhance the resident experience while also increasing profits. When systems are integrated, a resident can more easily control the physical environment of their living quarters to their liking. In addition, property managers will reduce operating costs.

The following scenarios can all be achieved through the integration of systems:
To enter their living quarters, a resident need only present their smartphone, keycard, wristband, pendant, or other wearable to the electronic door lock for keyless entry. As they enter, the lights and temperature automatically adjust to the resident's preferred settings.
When a resident wakes in the middle of the night to use the bathroom, discreet sensors under the bedsides detect the resident getting out of bed and automatically fade up low level navigational lighting so as not to cause discomfort. This enables the resident to navigate safely to the bathroom and when they return to bed, the night light automatically fades back to darkness after a few moments, encouraging a peaceful and happy return to sleep.
When a resident exits their living quarters, the space goes into conservation mode — the lights and temperature are adjusted to maximize energy savings, and any running water faucets and televisions are turned off.
If a resident is not present in an area where they are expected, staff can quickly locate that resident via location services built into the wireless network.
Rely on Corserva for Technology Deployment
Corserva has the expertise to install and manage technology deployment projects for single location facilities as well as large multi-site corporations. We offer cutting edge technology solutions for a variety of hospitality markets, including assisted living facilities, hotels, resorts, serviced apartments, and schools & universities.
We provide and support technology solutions from a multitude of world-class manufacturers. We can design you a customized solution plus perform complete installation of all components and ongoing support.