Nearly every industry has been impacted by the Internet of Things (IoT), and hospitality is no exception. What has been harder to quantify is the best way for savvy hoteliers to leverage the IoT to increase profitability.
Definition: The Internet of Things (IoT) is the network of physical devices, vehicles, home appliances, and other items embedded with electronics, software, sensors, actuators, and connectivity which enables these objects to connect and exchange data.
IoT Applications in Hospitality
Within the hospitality market, examples of potential IoT devices abound in individual guest rooms as well as front-of-house and back-of-house areas. This includes hotel door locks, thermostats, lights, window treatments, mini-bars, in-room safes, water valves, and surveillance cameras.
The Key is Access Control
The key to leveraging the "connect-ness" of all these systems is through a property's electronic access control system, or door locks.
Hoteliers have long recognized the benefits of access control systems. These electronic, wire free and keyless systems provide a secure solution to manage all entry points throughout a property, not only for individual guest rooms but also for offices, external gates, business centers, fitness rooms, parking areas, etc. To maximize security, entry through every door should be controlled from one system.
It's not sufficient to use hotel access control systems for guest rooms only; you need to cover the entire property. To maximize the advantages of access control, every access point should be controlled from a single system.
Benefits of Hotel Access Control
The benefits of electronic access control systems include:
Security – You can track who enters and leaves every access point as well as the location of every individual that has access to the property. You can track who's getting in and out. Guests gain peace of mind knowing there is a digital trail of who enters their room. If theft occurs from the liquor storage room located back-of-house, you can review logs to see who went into the room.
Guest Convenience – You can provide access to guests using physical keys such as access cards or wristbands, as well as digital keys that can be stored on a guest's smartphone. You're not worried about the loss of physical keys; these can be remotely disabled from the central system if necessary and upon guest checkout.
Staff Productivity – When you can modify an employee's access quickly and without re-distributing hotel key cards, you increase productivity. A centralized system for access control enables operators to turn on or turn off access for any given entry point without the need to go to the door where the lock is. By reviewing historical data, you can measure the time employees spend at different activities; for example, how long it takes to clean a guest room.
Integration Increases Profitability
The reason access control is critical to the successful integration of all your IoT devices is that this is the only system you can use to definitively determine when a room or space is occupied or not. (Motion detectors are not sufficient because people can sometimes be still.)
If you can integrate access control with your other systems, you can increase profitability and improve the guest experience.
You may be familiar with integrating access control with other security related systems, such as video surveillance cameras.
But we're talking way beyond that.
Next to the labor costs associated with running a hotel, the operating expenses are the largest expenses in hospitality. When systems are left running in vacant or unoccupied guest rooms, expenses are driven up even further. At the same time, it is critical to the guest experience that people be able to run the systems for heating, cooling, water, lighting, and television as much as they want. Technology enables us to integrate these systems with the access control system in a hotel so that systems left running in unoccupied rooms are turned off or turned down.
Some of today's access control systems have the capability to be integrated with all the different systems in your property. You can integrate your access control system with your energy management system (temperature control), automated window treatments, televisions, water shutoff valves, and a host of other systems. This is achieved through a strong wireless infrastructure.
Technologies That Enable Integration
The technologies that enable the connection of multiple systems include:
BLE (Bluetooth low energy)
NFC (Near Field Communication)
RFID (radio-frequency identification)
Zigbee
Properties that have implemented the modern platforms that support these technologies can integrate their systems to decrease operating expenses dramatically, while also enhancing the guest experience.


A significant operating expense that property owners must deal with are the energy costs associated with running a hotel, such as those for heating, cooling, lighting, and water. What's worse is that guests may leave these systems operating, even when they are not in their room — a complete waste of energy.

If you have the technology in place that can tell you when a room is occupied or not, and that technology can turn off or turn down systems left running when a room is unoccupied, you decrease costs.

Leveraging the wireless capabilities of access control systems provides this cost savings. The access control system has the information on which rooms are occupied or not. This is the mechanism used to turn off or down systems within a guest room.
An Energy Saving Scenario
We know that, according to industry standards in hospitality, guest rooms are unoccupied, on average, 50% of the time.
Consider the use of electricity to understand the types of cost savings we could potentially realize. It's estimated that US hotels consume an average of 14 kilowatt-hours (kWh) of electricity per square foot annually.
On average, hotel rooms are 330 square feet.
So, each room uses 4,620 kWh annually.
By implementing technology derived energy saving measures that know when a guest room is unoccupied or unsold, you can expect to reduce energy consumption 20–45%. (See 7 Trends for the Internet of Things in Hospitality and https://www.hotelmanagement.net/tech/why-connectivity-helps-energy-management.)
At the low end of savings potential (20%), 924 kWh is saved per hotel room. At the high end (45%), 2,079 kWh is saved.
The costs of electricity vary by state. For example, in the US, Idaho offers the lowest pricing at 7.93 cents per kWh while Hawaii comes in at the highest in the US at 28.70 cents per kWh.
Some locations, such as the Bahamas, are even higher (37.40 cents per kWh).
With this information, we can calculate expected savings in electricity costs due to technology advances.
| | | |
| --- | --- | --- |
| Location | 20% reduction in energy | 45% reduction in energy |
| Idaho | $7,327.32 | $16,486.47 |
| Florida | $9,286.20 | $20,893.95 |
| Connecticut | $15,828.12 | $35,613.27 |
| Hawaii | $26,518.80 | $59,667.30 |
| Bahamas | $34,557.60 | $77,754.60 |
| | per 100 rooms | per 100 rooms |
Process Changes are Not Enough
Property managers may be familiar with the idea of implementing staff process changes to reduce energy costs. For example, staff can be trained to close window treatments in unoccupied areas (in warm climates) or to adjust temperature controls down (in cold climates). While process changes can provide some value, they are not sufficient to realize the magnitude of energy savings we are describing here.
Access Control is the Trigger
Access control provides the trigger for the other systems in a room. When a guest enters the guest room, the systems in the room turn on and when the guest exits, the systems turn off. For example:
When a guest enters, the lights turn on, the temperature is adjusted to a comfortable setting, and the television turns on at a low volume.
When a guest exits, the lights turn off, the temperature is adjusted to a lower temperature (in cold climates) or a higher temperature (in warm climates), and the television turns off.
The hotelier can customize a delay upon room exit of 1 minute, 5 minutes, 30 minutes, or something else before the systems adjust automatically.
Improving the Guest Experience
If all the systems within a guest room can be controlled from one point, this provides exceptional convenience to the guest.
Imagine a guest lying in bed and being able to control all the systems within the room from the television remote or a smartphone.
Instead of the guest having to adjust the temperature, lights, and television to their preference each time they enter their room, these settings can be saved and resume upon re-entry by that guest. These customized settings can even be saved for frequent travelers so that when they return to a property at a future date, the systems remember the guest's preferences.
Hoteliers can configure groups of settings for typical use cases such as:
Daytime use – The window treatments open and all the lights turn off.
Nighttime use – The window treatments close and all the lights turn on.
Watching television – The window treatments close and the overhead lights dim.
All this functionality starts with access control. By upgrading to an advanced electronic physical system for access, you gain the ability to integrate your other systems, even future systems you may not currently have.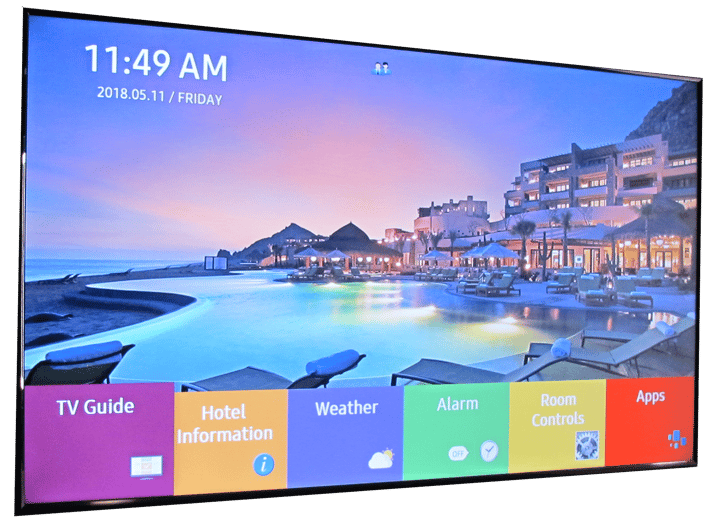 Wireless Infrastructure & Location-Based Services
You need to be able to provide strong WiFi that is available throughout the property. Guests expect to have access to the internet at least as fast and as readily as they have it at home. Additionally, wireless technologies can provide location-based messaging as an enhancement to the guest experience. Investing in your wireless infrastructure will also enable improvements to your efficiency.
Examples include indoor wayfinding applications, mobile check-in, and proximity-aware push notifications that enable you to promote areas of your property.
With this technology, guests can turn on systems within their room before they enter the room. Beaconing technology can enable systems in a guest room to automatically turn on as the guest approaches. Hoteliers can send location-based offers to guests that alert them to onsite services as well as turn-by-turn directions to restaurants, entertainment, and shopping.
How Do You Get There?
It's important that you work with an integrator such as Corserva that can help you choose the best systems for your needs and integrate everything for you. In addition to performing installation and maintenance, we monitor your systems on an ongoing basis.
Unlike other proprietary solutions, Corserva can integrate systems from multiple vendors of your choosing. We can help you choose the best products for your business applications and deliver an integrated solution for you.
When you choose Corserva to install and manage your IT systems, you have only one vendor to contact when issues arise. Instead of dealing with multiple vendors and multiple contacts, we provide you a managed service offering that covers all your technology needs.
See It for Yourself
Corserva has built a Technology Concept Center in our Orlando, Florida office. By visiting the Concept Center, you can see for yourself the types of experiences you can deliver to your guests with technology, as well as the cost saving advantages.
As you enter the demo room that has been configured as a hotel guest room, the room comes to life. The lights turn on in a timed sequence. The headboard lights and then the overhead lights turn on slowly in a welcoming manner. The curtains open.
You can select different modes for the room. For example, in TV mode, the blinds close, the overhead lights drop down to 40%, and area lights turn off automatically.
When you exit the room, the temperature adjusts to maximize energy savings and all the lights turn off. If any water faucets were left running, those are turned off as well.
The fully integrated lock sends status messages to the centralized system. Not only does it know whether someone has entered or exited a room, it knows specifically who it is. If multiple attempts are made and fail to open a door, that information is reported as well as other maintenance information such as when batteries in a lock need to be replaced.
Now is the Time to Invest in Access Control & Wireless Infrastructure
By investing in a robust electronic access control system, you can start reducing your operating costs immediately. Once you have a future-proof system for access control, you can then integrate your energy management, as well as other systems such as in-room control systems and in-room lighting to decrease operating expenses. Moving forward, you will have the capacity to integrate other systems you may not even have today.
Corserva can install and maintain solutions for best-in-class enterprise WiFi and beacon-enabled location services. Along with access control, we can monitor your wireless infrastructure and keep your network secure.
In addition to integrating and selling technology solutions, Corserva maintains these solutions to take the burden off the hotelier. As a Corserva client, property managers have a single point of contact for any technology issues. No more trying to pinpoint the source of the issue or figure out who to call.