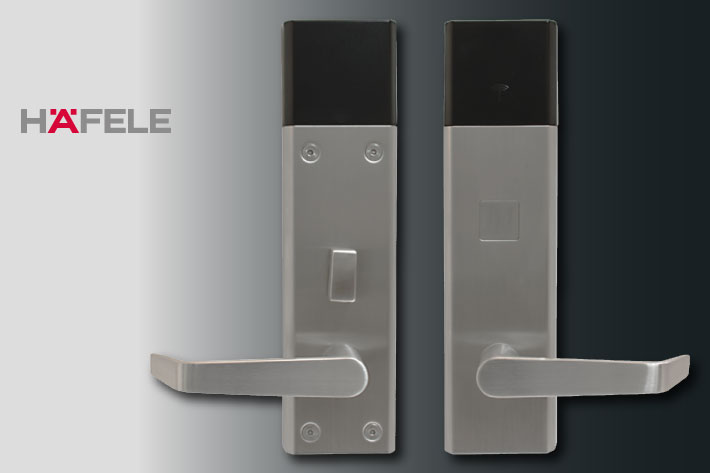 As of August 16, 2018, Corserva is now a Value Added Reseller (VAR) for Häfele America Co., a leading worldwide supplier of hardware components to architects and construction professionals. Häfele's advanced Dialock access control system will be sold, implemented and supported by Corserva into hospitality markets.
With this announcement, hotels and resorts gain sleekly-designed, user-friendly locking systems with embedded wireless technology supported by nationwide installation and support.
Corserva has extensive experience installing and supporting back of house technology solutions for brand name, enterprise hospitality clients. Corserva has a Technology Concept Center where hoteliers can view various guest room technologies as they would be integrated in real-world settings. The Concept Center demonstrates how access control systems can provide the trigger to adjust other environmental controls within a room.
"We believe advanced electronic access systems are the key to integration of all systems within a guest room and throughout a property. By connecting door locks to IoT devices such as thermostats, lights and window treatments, property owners can drastically reduce energy costs while improving the guest experience."
— Camilo Soto, CEO, Corserva
Häfele manufactures premium access control solutions to the hospitality market, including the all-new Dialock DT 750, which incorporates RFID and Bluetooth Low Energy (BLE) technology to enable touch-free activation. The system optionally eliminates the need for physical keys, so guests and staff can open doors with digital keys using their smartphone or other RFID device.
"Häfele is known around the world for our innovative, solutions-oriented products, which were first brought to US markets more than 40 years ago. In today's connected world where hotel guests have raised expectations, hoteliers are seeking products which provide a superior experience that picks up where the guest's automated home and office environment experience left off."
— Paul K. Smith, President/CEO, Häfele America Co.
Häfele products are on display within Corserva's Technology Concept Center in Orlando, Florida. To arrange a tour, visit https://info.corserva.com/sign-up-for-tour.
About Hafele
Häfele is a leading worldwide supplier of furniture and architectural hardware components that improve the functionality of cabinets, doors, kitchens, bathrooms and other living and working environments. LED lighting, decorative hardware, opening and closing mechanisms for doors and drawers, furniture fittings and electronic locking systems are but a few of the essential items Häfele provides to manufacturers, architects, designers, contractors and construction professionals in more than 150 countries. Learn more at https://www.hafele.com/us/en/.
About Corserva
Corserva provides managed IT services to enterprise and mid-market clients. The company's services cover all aspects of IT needs including lifecycle management, managed services, managed security, and business continuity. Corserva's staffed offices in Trumbull, Connecticut and Orlando, Florida house HIPAA and PCI compliant data centers as well as network/security operations centers that provide 24x7x365 monitoring of clients' IT infrastructure. Learn more at www.corserva.com/hospitality/.